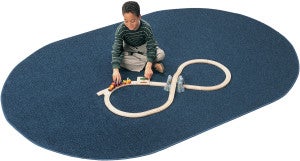 Some teachers opt for solid color carpets instead of patterned or activity rugs. There are a few good reasons to have a carpet in your classroom even if you don't want an activity rug.
An Area for Non-Desk Activities
When a student's activity isn't well-suited for a desk, a soft solid carpet is a great alternative. An area carpet creates a nice space for activities like independent reading.
Noise Reduction
Background noise can impede learning. Some school districts are adopting classroom acoustic standards to create optimal learning spaces. Carpets help to meet these standards because they are ten times more efficient at reducing noise than other flooring options.
Safety
Floors can be slick. Breaking up hard floors with area carpets reduces slippery spaces in your classroom. Carpets also cushion the fall when toddlers stumble.
Warmth and Comfort
Rugs don't just make a classroom "feel" warmer, they actually provide thermal resistance between students and the floor. In an independent study, carpet compared to other flooring materials, creates a warmer building.
It's important to remember that you shouldn't sacrifice the quality offered by competent rug manufacturers when you're purchasing a solid color rug. Choose with care and it'll continue to be a comfortable space in your classroom for years to come.
The Carpets for Kids range of solid color carpets can suit any classroom, no matter the size or color scheme. We've got different collections available, including KIDplush and KIDply, offering a variety of price options with warranty and fire rating guarantees. Solid color carpets are a popular choice with our customers and, like all our products, they're available across America from quality distributors. As per our commitment to transparency and information, you can download the carpet specs for each of our ranges and see exactly what you're getting for your money. Remember, too, that our carpets are 100% North American made and are designed to withstand the daily wear and tear of a class of children, whether they're jumping around or sitting quietly with a book as they continue to grow and develop.