At Carpets for Kids, we don't rest on our laurels.
That's why we've been working hard behind the scenes to create our KIDSoft Collection that combines the plushest yarns with the rest of the benefits you've come to expect from Carpets for Kids. So, when you're searching for a new educational carpet, why should you stop and look twice at the KIDSoft Collection?
They're soft enough for little ones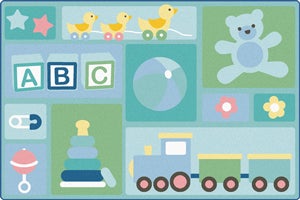 The KIDSoft Collection was designed with younger children in mind. We know that sitting still isn't always the easiest thing for little ones to do. Making their seating space comfortable is a good incentive for them to stay put and it means that they'll look forward to the time they spend on the carpet. The dimensions of the rugs within the collection mean that they're compact enough for classrooms and nurseries, while still being affordable enough for parents looking to furnish their homes with a soft, plush carpet.
The range covers educational and relaxation
Some carpets in the KIDSoft Collection have educational elements appropriate for smaller children. They have the alphabet on them, for instance, or familiar animals. Thanks to this, they're the perfect option for surrounding younger children with opportunities to develop their curiosity and interest in learning. If you're simply looking for a relaxing space where children can read or play games quietly, the KIDSoft Collection is also ideal. Calming colors form a good proportion of the range, giving children space for quiet time without overloading their senses.
They come with all the benefits of our Premium Collection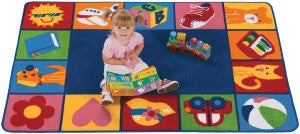 The Carpets for Kids KIDSoft Collection is the latest addition to our fantastic Premium Collection. This range incorporates the best of our extensive experience designing and developing educational carpets for classroom use and beyond. So, for example, you've got our Patented Backing Educational Carpet Technology which provides unrivaled durability, softness, and flexibility. Advanced Stain Protection and our No-Fault Edge Warranty are also included with these carpets as standard, not to mention our Lifetime Limited Abrasive Wear Warranty. Put simply, our Premium Collection distills everything we know about quality carpets into one package. If you're looking for the best carpets for kids, you don't need to look any further.
Carpets for Kids care
Some companies create great products then sit back and expect their reputation to sustain them. At Carpets for Kids, we determined never to do that. So, year after year, we continue to develop our ranges. We listen to customers when they tell us what they want us to work on next, and we continue to recycle and reduce our carbon footprint wherever possible.
Our KIDSoft Collection represents our latest innovations in carpets for younger children. Add a little softness to your classroom, nursery or home and let the quality speak for itself.